I am back with more My Mind's Eye Blackbird this time mixed in with my Cricut Design Studio Pop Up Spider Card! Last year I created the Pop Up Spider Card using Wild Card and Paper Doll Dressup. Click HERE for the original post/download link. Last year there was a lot of confusion on how the card went together and I answered several emails. So for those new to this design, I am going to piece it together with you in the photos below!
Once you have the file downloaded you will notice that there are several tabs, all labeled. The design file only has pieces for the "inside" of the card. This way you can decorate the front of the card as you wish!
These are all the pieces from the cut file. The card base (black) is scored at 5" and the pattern paper inset (crows) is scored at 4 1/2". The inside mat (eek) is scored at 1 5/8" and be sure to hang on to the inside of the "e"s, as they will be pasted to the center of the card later.
Flip the sider cut over and place adhesive on the large black square area. DO NOT add adhesive to the web, spider, or the long black cuts.
Adhere to the pattern paper inset, centering. The cut edges of the squares will meet in the center score, almost touching as shown in the photo.
Adhere center (eek) paper under the spider web and add adhesive to the center of the e's and place them in their proper spot. You will have to fold the spider web "long pieces" a bit to make them stand up better. Fold the spider web in half as you close the card and tuck the little spider inside.
All that is left is to decorate the front and add any details you want to the inside!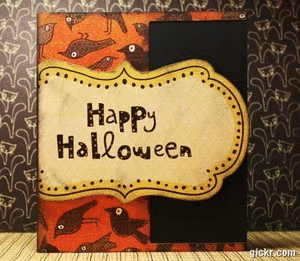 Supplies:
Pattern Paper: Blackbird (My Mind's Eye)
Cardstock: Black (Recollections)
Cricut Cut File: Jamielanedesigns.blogspot.com
Ink: Charcoal (Cat's Eye Chalk Ink)
I would love to see your card! If you make one be sure to put a link in the comments section so I can come see!