Welcome to the Samantha Walker Holiday Blog Hop! This month, we have been busy creating Holiday Gifts to share with you! If this is your first stop, you will want to click

HERE

to be taken to Samantha's blog where the hop begins! Trust me on this one...there are so many wonderful projects, you will want to make sure you see them all! And...Samantha is offering some of her digital artwork as a prize, we all know how much I love all of her digital lines!
Now, we all have those individuals on our list that are just impossible to buy for! Today, I am going to share with you my solution for those family members! My son and I worked together for this project. I asked Gannon to find a coloring picture online for his Great-Grandma and to color it up for me...she loves airplanes, so this one was such a great pick!
While he was busy coloring, I found a frame and began cutting 1-1/2" strips of Samantha's Decadence Fabric she designed for Riley Blake with my pinking shears (make sure you cut a starter strip so both long ends have the pinking shear cut). Once I had several strips cut, I removed the backing and glass from the frame then placed adhesive on the back of the fabric strips and started wrapping the frame. Just keep adding in strips as you go, making sure to cover the frame entirely! To finish, I used a smaller strip to tie a knot along the left side of the frame and found a small yellow jewel to add to the center of the knot!
I added the glass back to the frame and then put in Gannon's picture (didn't he do amazing!?) and secured the back of the frame in place! I used a cardstock sticker label from Samantha's Creative Imagination Orchard Harvest Line to add to the back of the frame and had Gannon write a note to Great-Grandma!
I love gifts that we can build together and I am certain Great-Grandma is going to love it too!
My second project is a cut file that Samantha designed for Silhouette! The file is "Present Card" and has so many possibilities! The little package comes apart to reveal the card inside!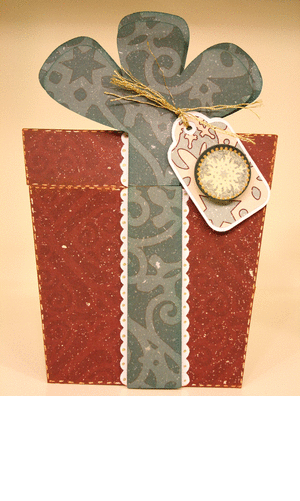 I hope you enjoyed my projects and that you and your family have a wonderful holiday!
Your next stop on the Holiday Blog Hop is the amazing and talented Pinky!